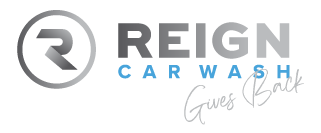 CHARITY & FUNDRAISING
REIGN CAR WASH
Reign Car Wash supports our local communities through Grand Opening Celebrations. If you are a local business and are interested in partnering with us on our next Grand Opening, please click below:
We also support local charities with gift card donations and a fundraising wash program. For more information, please fill out the form below:
HOW IT
Your supporters will purchase their wash through the provided link and a text with their wash will be sent directly to their phone after checkout is completed.
SHARE ON
Share your link with as many people as possible. When they purchase washes, 30% of the purchase goes to your organization.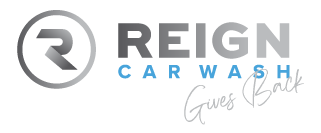 CORPORATE
PARTNERSHIPS
One Mission Partnership
Reign Car Wash is a proud partner of One Mission, a childhood cancer charity that makes life brighter for kids fighting cancer and their families.
One Mission programs and services reduce stress, restore joy, and give children and their loved ones the support they need to get through the daily challenges of cancer treatment.
OUR VISION
OUR MISSION
AWESOME SERVICE THAT MAKES THE ORDINARY AMAZING!
OUR VALUES
BE GREAT, BE REAL, BE ACCOUNTABLE, BE TOGETHER, BE NICE